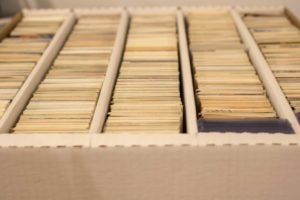 Sell to Us
We purchase sports cards and memorabilia. Whether you are looking to sell one rare sports memorabilia item or an entire sports card collection, we are here to help you. You can e-mail us  any questions. Provide your contact information with your e-mail and we will contact you with within 72 hours by phone or e-mail.
We are buying both vintage (pre-1980) and modern collections (1980-present). The only cards we currently do not buy are bulk collections of commons from the 80's and 90's as we currently have plenty of those. E-mailing us is the best way to get a quick response.
Consultation
We charge a nominal fee to assess the value of a collection, based on time and distance. This fee may be waived if we purchase from you. In a consultation we discuss the value, what the valuable pieces may be, whether or not grading a card would be beneficial, and other questions you may have.
---
Ready to Sell? E-mail Us