A Love Letter to Flea Markets
During the summer months, one of the things my family enjoys doing is checking out the garage sales, flea markets and thrift stores in our area. On these excursions, I am always on the lookout for sports cards. Even with the hobby boom between 2019 and 2021, I still see plenty of low-cost buying opportunities.
Most of what I find in this context is from the junk wax era of the late 1980s and early 1990s, and there are a handful of players that I always buy if their cards are in good condition and priced around a dollar or less. I have included the players in a list below and there are several reasons why I purchase them:
Enjoyment – These are all highly collected, popular players that I enjoyed watching as a young sports fan. In addition, I have no problem if I end up owning cards of these players for the next thirty years. True happiness is a box full of Ken Griffey Jr. and Michael Jordan base cards from the early 1990s.
Risk – Buying cards at a rummage sale for a dollar a piece fits into the budget for most collectors. It is difficult to rack up credit card debt or lose large amounts of money when operating under this model.
Market – The players I target have widespread appeal. This means that even their base cards usually can be sold on eBay for five dollars or more. Is buying a card at a garage sale for a dollar and selling it online for five going to make anyone rich? No. However, this is a way to engage the hobby in a low-cost way, enhance your eBay sales algorithm, and build up cash for more expensive collectibles.
Ultimately, this strategy is dependent on your capacity to look through boxes of old cards on a Saturday morning and crank out eBay listings. If those are tasks that you gravitate toward, this method may be for you.
With that out of the way, on with the player list. For fun, the pictures included in this blog post are all cards that I have found in the last year "in the wild" at garage sales, flea markets, and thrift stores.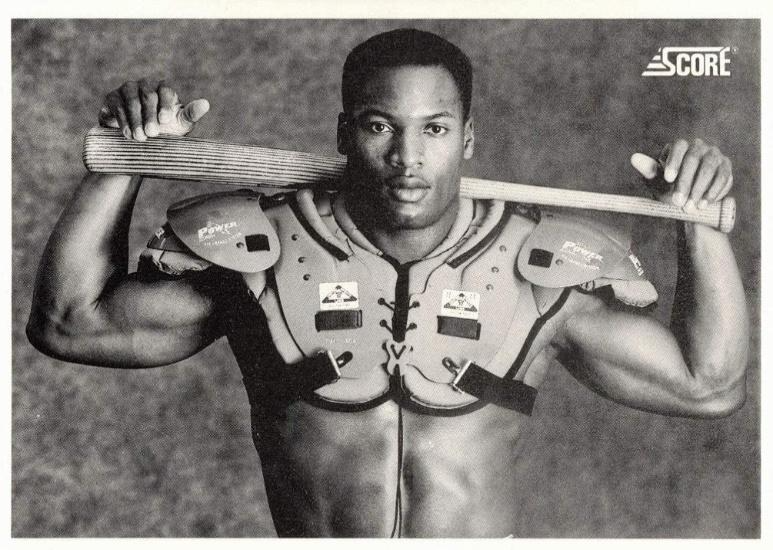 Bo Jackson
Jackson was a legendary two sport athlete. He was a Pro Bowl running back for the Raiders and an All-Star outfielder for the Royals before a devastating hip injury ended his football career. It also made his time on the baseball diamond a shadow of what it might have been.
Jackson's rookie cards are some of the most popular issues of the 1980s.  His baseball rookie from 1986 Topps Traded and football rookie from 1988 Topps routinely sell for hundreds of dollars in PSA 10 condition.  The card I found was Jackson's iconic Black and White edition from the 1990 Score set, and I paid a quarter for it.  Raw copies of this card sell for between five and ten dollars on eBay.